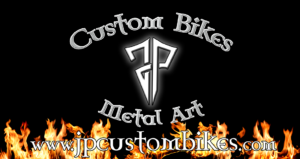 Piter, a właściwie Piotr to olsztyński artysta budujący wyjątkowe i niepowtarzalne motocykle.
Od kilkudziesięciu lat jest właścicielem znanego w całym kraju i za granicą warsztatu JP Custom Bikes Metal Art.
Piter nie lubi mówić o sobie i się chwalić tym co potrafi, a potrafi jeśli chodzi o motocykle bardzo wiele i często już po przekroczeniu bramy przez klienta po dźwięku diagnozuje choroby z którymi przyjeżdża klient.
Motory to jego pasja, hobby, którym zajmuje się nimi od ponad 30 lat.
Od połowy lat 90 całkowicie zawodowo – zamienił swoją pasję w  pracę –  nie ma nic lepszego jak pracować z pasją:)
Na pytanie czy lubisz to co robisz? – bez zastanowienia odpowiada ,,BARDZO"
Jaki jest zakres jego zadań ?
Na pewno to szeroko pojęta mechanika motocyklowa (customaisingowa):
– przeróbki motocykli,
– budowanie motocykli całkowicie od podstaw (olbrzymie doświadczenie),
– lakierowanie,
– renowacje,
– serwisowanie ( wymiana części mechanicznych, regulacje, wymiana olejów, wymiana kół).
W swojej pracy używa wyłącznie renomowanych materiałów takich firm jak glazurit itp.
Przebudowany, a wybudowany motocykl to dwa inne motocykle, Piter specjalizuje się w budowie od podstaw i sam tworzy ramy, zbiorniki paliwa, formy z metalu, które w ogóle nie istniały.
Piter ma uprawnienia spawalnicze, które klientowi dają pewność bezpieczeństwa dobrze wykonanej pracy.
Najbardziej pasjonuje go budowa motocykli spersonalizowanych a mając zmysł techniczny i duszę artysty efektem jego pracy są nietuzinkowe i niepowtarzalne wyjątkowe customy.
Klient przychodzi ze swoją wizją, która niejednokrotnie nie przekłada się na stronę techniczną i tu wkracza Piotr doradza technicznie, że to coś co wygląda musi też dobrze działać i być bezpieczne.
W swojej 30 letniej karierze wybudował ponad 80 takich "motorków".
Dla pasjonata jazdy na motocyklu jego maszyna jest dla niego najważniejsza a Piter traktuje wszystkie maszyny jak swoje dzieci, więc jeśli już masz oddać swoje cacko do kogoś to  oddaj go tylko u profesjonalisty – a więc na pewno do Pitera.